Web hosting that scales from easy to expert.
A ton of website hosting options, 99.9% uptime guarantee, free SSL certificate, easy WordPress installs, and a free domain for a year.
Easy Drag and Drop
Fully Customizable
Mobile Friendly
Starting at only
$3.84/mo*
Built for Speed
Advanced Security
Free Migrations
Starting at only
$5.95/mo*
Total Control
Full Management Tools
The Ultimate in Performance
Starting at only
$89.95/mo*
HostGator Cloud is an "upgraded" version of their shared hosting option.
According to them, it should be faster and more scalable than their regular hosting.
Firstly, it has provided 100% uptime in the past four months, capping off an excellent 24-month performance. HostGator Cloud doesn't compromise on the speed, either, providing average page loading times of just 399ms.
Friendly customer support and free site migrations make this one of the best options we've reviewed.
Just be aware of the extra fees that could pop up when it's time to checkout or renew your plan.
Here is an in-depth analysis of HostGator Cloud's performance over the past 24 months.
General Info & Hosting Overview
---
| | |
| --- | --- |
| OUR VERDICT: | Most Unlimited Hosting |
| SPEED: | 399ms (February 2018 to January 2020 average) |
| UPTIME: | 99.99% (February 2018 to January 2020 average) |
| SUPPORT: | 24/7 Live Chat |
| APPS: | WordPress, Joomla, Drupal, and Magento |
| FEATURES: | Unmetered bandwidth and storage, email accounts, free domain 1st year |
| HOSTING PLANS: | Shared, Cloud, WordPress, VPS, and Dedicated Servers |
| SITE TRANSFER: | Single Free Site Transfer |
| PRICING: | Starting at $2.74/mo (renews at $8.95/mo) |
---
Pros of Using HostGator Cloud
Right from the start, HostGator Cloud impresses us with stellar uptime and page loading times.
Their servers are packed with extra features you don't typically find with many of their competitors.
Plus, they throw in an exclusive discount that brings the pricing for this advanced host down to the lowest levels in the industry.
Here's a quick look at some of the highlights:
1. VERY Strong Uptime of 99.99% (Over the Last 24-months)
HostGator Cloud has posted an uptime average of 99.99% over the last 24 months. That sounds impressive because it is: the last five months have seen five successive 100% scores across the board.
During our 24-month tracking period, their uptime dipped below their 99.90% uptime guarantee threshold only once. July 2018 was just below the threshold with an uptime of 99.89%.
Here's how the uptime guarantee works:
If your average uptime for the month is below 99.90%, you can get a payment credit for the entire month. Planned maintenance and other one-time, fluke events are excluded. But it's good to know that they willingly stand behind their clients won't be penalized if hosting performance temporarily slips.
If you're using one of their VPS or dedicated servers, you're also covered by a different Network Guarantee (spelled out in their terms).
Last 12-month average uptime for HostGator Cloud:
January 2020 average uptime: 100%
December 2019 average uptime: 100%
November 2019 average uptime: 100%
October 2019 average uptime: 100%
September 2019 average uptime: 99.98%
August 2019 average uptime: 99.99%
July 2019 average uptime: 100%
June 2019 average uptime: 99.98%
May 2019 average uptime: 99.99%
April 2019 average uptime: 100%
March 2019 average uptime: 100%
February 2019 average uptime: 100%


2. Top 5 Load Times (Only 399ms)
HostGator Cloud offers a few extra perks over its standard Shared servers. The biggest one, though, is speed.
They claim "up to 2x faster load times" due to a variety of extra features, including "low-density servers, premium hardware, and multiple caching layers."
HostGator's Shared plans stumbled in this department, posting a disappointingly-low 1113ms average load time. Honestly, that's too low to recommend — taking a minimum of one second to load pages (even before you add text or images on top of them).
Understandably, we were doubtful if HostGator Cloud would be able to deliver "2x faster load times". But after 24 months of tracking average loading times we have to say — they have delivered.
HostGator Cloud's 24-month average of just 399ms is good enough to comfortably place them among our top five fastest web hosts. Check it out for yourself in the month-by-month breakdown below.
Here are the load time averages from the past 16-months: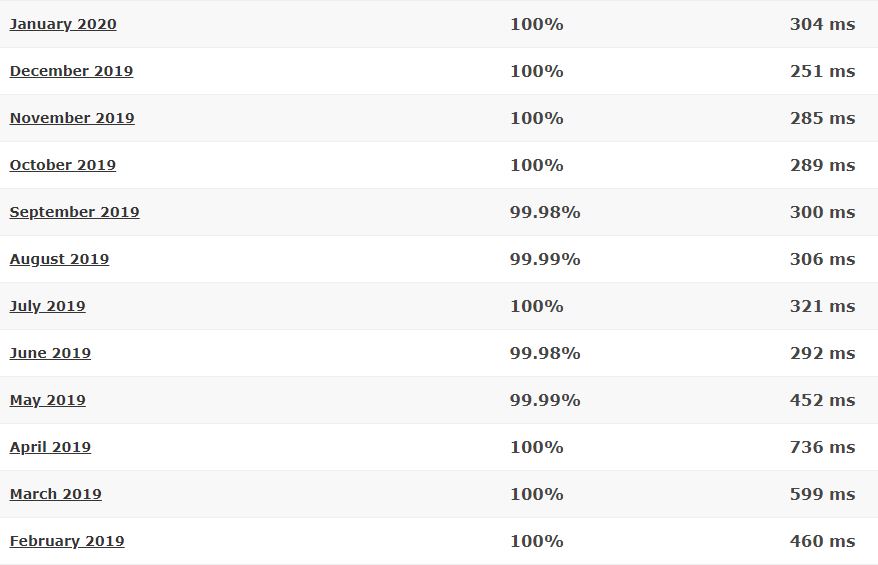 HostGator Cloud is off to a strong start, combining reliable uptime with blazing-fast servers. Those are two important boxes ticked.
3. Special Discounted Pricing – Exclusive to hostingfacts.com
HostGator Cloud's uptime and page speeds blew their shared servers out of the water.
So why don't more people just upgrade to the Cloud version? Well, money.
The advertised price for this Cloud option starts at $2.95/month and rises to $9.95/month. Keep in mind that this pricing applies to the longer, three-year term, too. (More on that below under the "Cons.")
The higher price tag turns off some users into sticking with shared hosting, instead.
Thankfully, there is some good news. HostGator has provided an exclusive discount to bring the HostGator Cloud pricing down to only $2.99/month.
That means you're essentially paying the shared hosting rates, but getting a MUCH better service in return. Just keep in mind that this discount only applies to one, three, and six-month plans. After that initial term, the pricing will rise to the renewal rate of $8.95 on the lowest plan.
4. Very User-Friendly Hosting
HostGator Cloud manages to strike a nice middle ground of a beginner-friendly service, that performs like an advanced one.
Here's what we mean:
Bandwidth and storage are "unmetered" on every single Cloud plan. That's almost unheard of on less expensive options. And it essentially means that you're not penalized as your site grows and grows and grows.
Typically, larger sites require more resources, which pushes you into a higher, more expensive plan. But not with HostGator Cloud. Instead, your only major limitation on each plan is the number of sites you want to host.
So if you're only planning on hosting one site, you could get by on the "cheapest" option and still be fine when your startup site becomes a chart-topping one.
The other good news is that you can't be penalized or charged for using additional resources, either.
Compare that to a managed WordPress host like WP Engine. Sure, they're mostly great. But they also have "overage" fees that hit you if your site starts to exceed monthly plan limits.
And worse, these fees are often automatic. So if you have a good month and traffic spikes, you're basically penalized for it.
HostGator Cloud, on the other hand, provides more of "all-in" pricing which is rare from cheaper hosts that only set you back a few bucks each month.
5. FREE Extras: Server Resource Management, Monitoring, and Site Migrations
HostGator Cloud is fast because they're not relying on your basic servers.
Each data center is backed up with integrated caching, cloud resource management, and data mirroring. All of these features work together to optimize the loading speed, manage resource allocation, and ensure availability. In English, that means servers can work together with a visitor's browser to limit the number of resources that need to be sent back and forth.
HostGator Cloud also throws in server monitoring and automated "failover" to make sure that if any hardware issues arise, you'll know about it ASAP and there's a Plan B in place to save your site.
Included in each plan is cPanel access, along with new email accounts. Plus, you get a free site or cPanel migration from your existing web host.
All HostGator Cloud hosting options include a single free site migration. Some other hosting service providers will throw in extra migrations for free, whereas many others make you pay for any migrations at all. So HostGator Cloud falls somewhere in the middle.
If you want to move more sites than that, they'll do it for an estimated cost of ~$25/site. Although, it might depend a little on the size or number of files.
Unfortunately, there are a number of sites that HostGator cannot move for you. These usually include sites that lack FTP and/or databases. The shortlist includes anything from VistaPrint, Intuit, Wix, Google Sites, Microsoft Office, or MobileMe.
6. Good, Friendly Support
HostGator provides 24/7/365 support through a knowledge base and tons of video tutorials, phone support, and live chat.
We tested their live chat, typing in our name and initial query. We only needed to wait around five minutes for Puneeth to connect and help us out.
Overall, Puneeth was really friendly and answered most of our questions.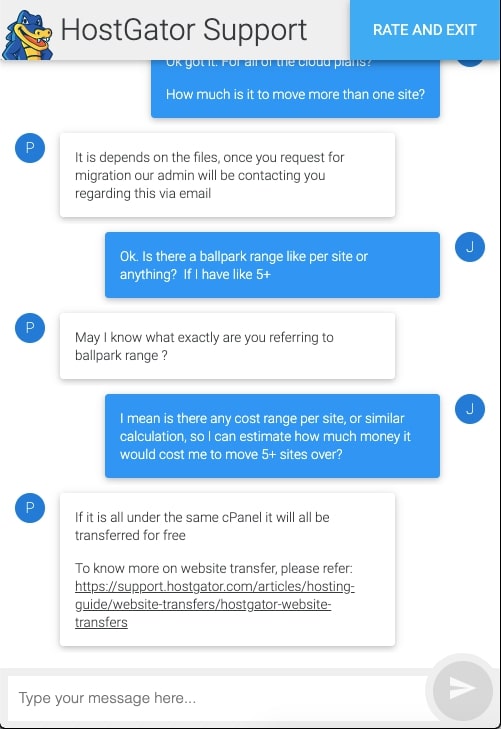 Until it came to answering a few questions around the site migrations.
Most web hosts we've reviewed will offer at least one free site migration. HostGator Cloud follows that trend.
However, if other hosts won't move more sites for free, there's usually a simple fee to have sites moved for you.
Puneeth wasn't really able to give us a straight answer on costs for multiple migrations. He claimed it usually comes down to the size or number of files and a few other details.
We ended up refreshing the live chat session and trying again. This time, we finally got an answer on migrations: an estimated ~$25/site.
So overall, the live chat support was a little bumpy but was able to answer all our questions.
There's one final bit of good news here. When we first reviewed HostGator, they did not offer any social media support.
But we're happy to let you know that they're now very responsive on social, answering individual issues multiple times a day: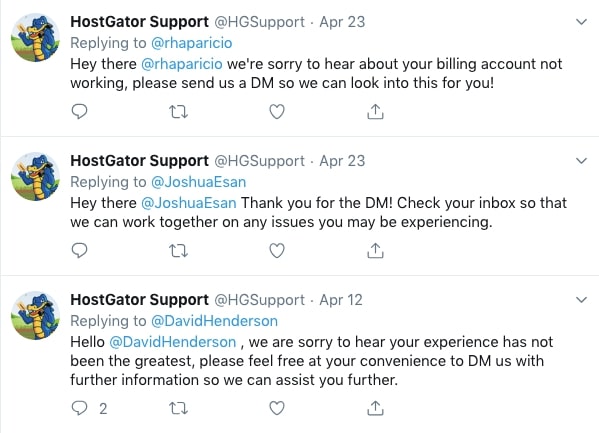 Now you have lots of different options to get a quick response from HostGator.
Cons of Using HostGator Cloud
HostGator Cloud's performance was mostly impressive. There are two smudges on their record, though.
The first is higher prices for short-term plans and high renewal rates when your first term expires. The second major issue is that it seems like they've taken away a few additional services and now make you pay for them.
Here's an overview:
1. Introductory Price Hikes & High Renewal Rates
You can save big on hosting if you know how to navigate the common pricing ploys that plague the industry.
The first is the initial introductory rate that you see on a host's site. It's usually a pretty low monthly price. The catch, however, is that you'll usually have to prepay for at least two or three years to take advantage.
A shorter monthly option, if they even offer it, can sometimes be as much as two or three times that cost.
For example, HostGator Cloud will cost $3.58/mo 36 months (or $2.74/mo with our discount for the shorter term) that renews at $8.95/mo.
Once you find a host you like, though, you're probably better off locking in the three-year rate for as long as possible. Here's why.
The second common pricing issue in the hosting industry is the high renewal rate. In this case, when your initial term ends, your plan will automatically renew at $8.95/month for the exact same service. You're not getting anything extra or better service necessarily. They're just banking on you not switching hosts again at that point.
So make sure you like the host you're going with. And then, pay for the longest term possible to keep your monthly rate low.
HostGator Cloud Pricing, Hosting Plans & Quick Facts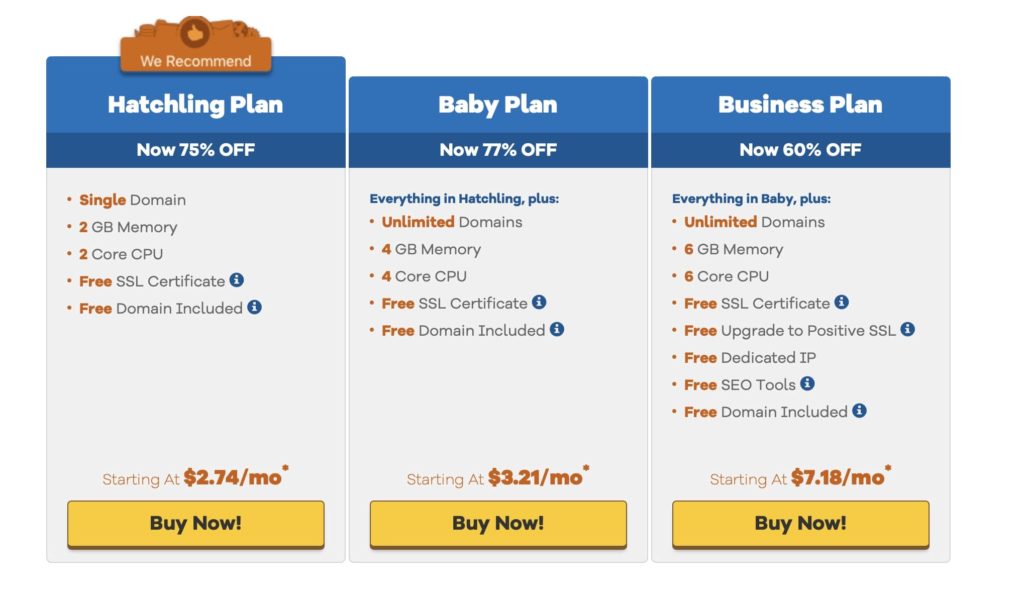 Here's a quick overview of the HostGator Cloud plans offered:
Hatchling Cloud: This plan starts at $2.74 per month with our discount (not $3.58). It supports 1 site, 2GB of memory, 2 core CPUs, a free SSL certificate, unmetered storage, and bandwidth.<- We used this plan for our test site.
Baby Cloud: This plan starts at $3.21 per month. It supports unlimited sites, 4FB memory, 4 core CPUs, free SSL certificate, unmetered storage, and bandwidth.
Business Cloud: This plan starts at $7.18 per month. It supports unlimited domains, 6GB memory, 5 core CPUs, free SSL certificate (Positive), free dedicated IP, free SEO tools, unmetered storage, and bandwidth.
Ease of Signup: The signup process is a breeze!
Payment Methods: You can pay by credit card or PayPal.
Hidden Fees and Clauses: Despite unmetered bandwidth and storage, you can't use over 25% of their system for over 90 seconds. Renewal rates are higher than normal rates. And certain types of FTP-less sites can't be migrated by their team.
Upsells: There are some upsells along the way.
Account Activation: It might require up to 24-48 hours for accounts to be activated in some cases.
Control Panel and Dashboard Experience: cPanel.
Installation of Apps and CMSs (WordPress, Joomla, etc.): Extremely easy, one-click installation process of the most popular apps available.
Do We Recommend HostGator Cloud?
Yes, we do.
HostGator Cloud manages to do a few things really well. They're extremely user-friendly and inexpensive with our discount. At the same time, you're getting some of the best uptime and page loading performance we've seen after reviewing over 30 other hosts.
Customer support was solid, too.
So despite renewal rates being a little higher and some potential extra fees, the fact that this plan is discounted to about the same price as their shared options make it a no brainer.